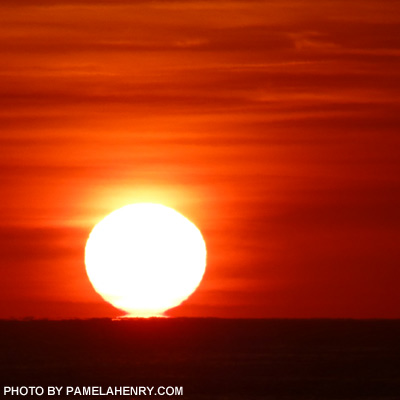 Magenta Sun
~Pamela Henry
Letting go
I melt into
An expanding
Magenta sun
Bleeding
Beyond the
Watery edges
Of my
Kaleidoscope into
Diamond stillness
An invisible
Stream of
Well-being
Floods my heart
Violet flames
Consume the
Self-defeating
Chaff of
Resistance
Drifting skyward
Transmuting into
Embers of
Golden light.
~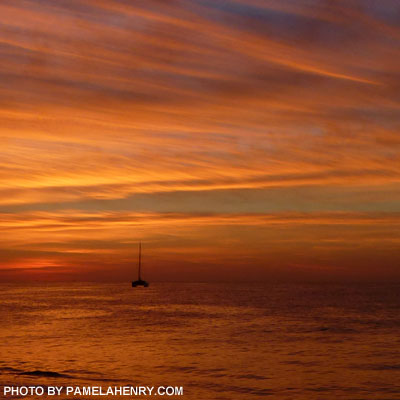 When I consider what it means to be true to myself, words like authenticity, integrity, courage, wholeness, loving kindness and self-honesty immediately pop into my mind. It also means having a clear connection to my inner wisdom and clarity of who I am and the life I want to live.
To take it a step further – what words would you use to describe how being true to yourself makes you feel? For example – Do you feel love and appreciation for yourself and those around you? Do you feel empowered, knowing that you are courageously following your dreams? Do you feel a sense of freedom knowing that you are in integrity with your higher self?
You'll always know if you're being true to yourself by how you feel. Feelings are the most important feedback system you have. Your emotional response in any given situation is all the information you need in order to know whether you're aligned with your true self or not.
Several years ago, when I began my personal development journey, I had no idea how to change my feelings of powerlessness and discouragement. I was completely disconnected from my true self and I didn't even realize it. I had left all my dreams behind, feeling that I was too old and too overweight to realize them.
After spending the past few years learning how to change my limited beliefs, here's what I've learned. You have the power to shift how you feel and move towards the feeling of joy and empowerment that comes from being aligned with your true self.
Be it a life transition, an argument with a loved one or a rough day at work, we've all had emotionally challenging times. It doesn't matter what's causing your discomfort. Discordant energy is an indication that you're not being true to yourself. On the flip side, feeling empowered, free and enthusiastic are the wonderful result of being rooted in your truth.
Being true to yourself is acknowledging and honoring how you feel. It's developing a deep and trusting relationship with yourself that begins with paying attention to your thoughts and your physical reactions to the world around you. If you're spending your days in negative self-talk, it's time to make a change.
How To Connect With Your True Self
Here are two practices that will help you build a strong connection to your inner voice and expose where you may be living out of alignment.
Meditation – Learn 7 Easy Steps To Meditate: Take A Deep Breath. The Beauty Of Letting Go
Journal Writing – Learn two daily practices to help you tap into your inner wisdom: The Power of Journal Writing. How To Capture Your Thoughts)
Being clear about who you are and what you desire from life is key to living in integrity. Once you hook onto your authentic path, your truth shines in everything you do.
What does being true to yourself mean to you? Please let me know by sharing in the comments below or head over to my Facebook page.
With love and gratitude,
Pamela